Understanding RFID
Short for Radio-Frequency Identification, RFID is a chip in any product that carries scannable data. Hotel key cards, wrist bands, entry cards, etc., are some of the examples of RFID. There are many RFID key cards hotels around the globe, and many of them use Chinese market as their purchase land.
Many potential customers consider China RFID key card suppliers since they are cheaper. However, you should not fall victim for a bait only considering the price aspect. Here are some features apart from the price you may want to keep in mind while considering a custom hotel key cards manufacturer from China:
1. Reliability
It is vital for the supplier to be prompt and reliable. Right from the first-time contact you make to the RFID supplier, you should be able to gauge the reliability of the organization.
Their response time, ability to quote appropriate TATs, display of product knowledge, sticking to the quoted TAT during test or sample order are all some give away when you are trying to decide if the manufacturer and supplier is a reliable choice.
2. Variety of products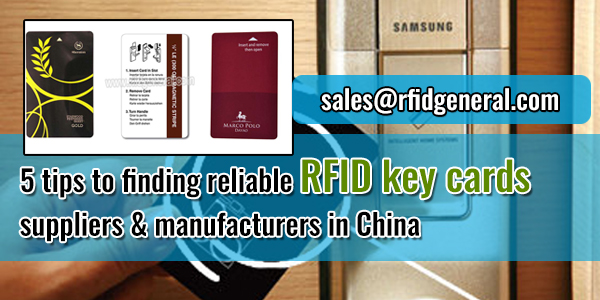 Contacting, following up, and ordering different RFID requirements from different manufacturers is not a viable option. Hence, it is crucial for the manufacturer and supplier to have multiple product options to choose from. Such product range will give you a variety to choose from and also show the expertise of the manufacturer.
Some of the significant products to look for when choosing a manufacturer are:
o RFID Wristbands
o RFID Cards
o RFID Tags
o RFID Stickers
o UHF RFID Sticker Tag
o RFID Badges & Lanyards
3. It is also essential for the manufacturer to be able to customize their products as per your requirements. Only an experienced manufacturer and supplier will be able to meet this requirement, and it is vital to choose a manufacturer that can honor this request.
4. Quality
Quality of the finished product is not something you want to let go of while running behind the lowest prices. It is essential that you are aware of their quality standards. You may understand this information during your contact with the supplier or, there's nothing like a site visit. All manufacturers permit their buyers to visit their production plant to understand the complete production process. You may want to oversee their production line during this visit and know if all quality checks are in place.
5. Customer support
It is crucial for the manufacturer to have an up and running customer support 24/7; especially when hiring China RFID key cards suppliers. Visiting their office or production plant often is not a feasible option. Having active and knowledgeable customer support will help you any hurdles.
6. Guaranty and maintenance
Just like any other product, you may face technical issues with these key cards as well. You need to ensure that the custom hotel key cards manufacturer will attend to any problems you may come across and help you fix them.
If you run an RFID key cards hotel, you are bound to find a reliable manufacturer and supplier at a cheaper cost if you stick to these tips.