RFID Fabric Wristband & RFID Smart Card /
RFID Tag
Our Classic Festival Wristband with visible RFID tag, can be fully customized to suit your events or sponsor's brand.
Which have been widely used at festivals and events all around the world.
The RFID wristbands are designed for one time use or reusable, featured an RFID tag, enabling compatibility with
any RFID event solutions, including access control, cashless payments, identification and social media integration.
Our Fabric & Woven materials are no harmful to human body and environment friendly.
RFID Chip Options:
13.56MHz / ISO14443A Protocol
Mifare Ultralight EV1/ Mifare Ultralgiht C/ Mifare Classic 1k S50 Ev1 / F08 Compatible Mifare Classic 1k
ICODE SLI/ ICODE SLI-X / ICODE SLX-S / Ntag213/216 / Mifare Plus (2K/4K) / Desfire D21 D41 (…NFC)
Product Details:
RFID Fabric Wristband -Digitally printed wristband/Heat transfer printing wristband
Printed Wristband: Full color print onto smooth satin (1 side or 2 side printing optional,like below images)
Wristband Size: 350mm*15mm/16mm/20mm,400mm*15mm/16mm/20mm
RFID Fabric Wristband-Woven Wristband
Woven Wristband: Up to 8 colors. Includes neon and metallic threads
Wristband Size: 350mm*15mm/16mm/20mm,400mm*15mm/16mm/20mm
RFID Tag / Smart Card:
 Material: Hard & Soft PVC printed full color. Gloss /Matte /Frosted finished
 Size: 40*25mm/ 39*23mm/ 33*26mm/ 40*30mm, etc.
Front Side: Logo, Pattern Printing , QR code & Bar code, Variable data, etc.
Back Side: Laser UID & Serial Code Printing 
Additional Features:
 Matrix Code/ 2D Aztec Code
Variable data & Serialization & UID Number
Random Number Printing Matching UID
Glow in the dark thread (woven sections only)
Kimble tag
Lock Options (pantone matched lock):
Single time use Lock & Re-usable Lock 
Provide multi-color options, Ordinary lock and Glow in the dark lock
Standard Barrel Lock (Single time use lock)
Side Load Barrel Lock (Single time use lock)
Slim/Round Adjustable Bead (Reusable lock)
Metal bead lock (Reusable lock)
Round Barrel Lock (Single time use lock)
Supper Stitch
RFID Fabric Wristband Packaging:
50pcs /100pcs packed in one Small poly bag,
500pcs in a Middle poly bag, 4000pcs or 5000pcs in one Carton.
All small poly bags, middle poly bags, and cartons are marked clearly with stickers,
marking including PO/SO, design, quantity, serial range, and bag or carton number, etc.
All our packaging are strong and solid, good for oversea shipping by Fedex/DHL/UPS/TNT, etc.
And we accept customized packaging if our above is not good for you.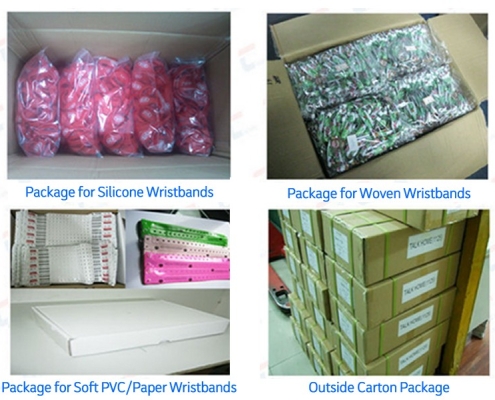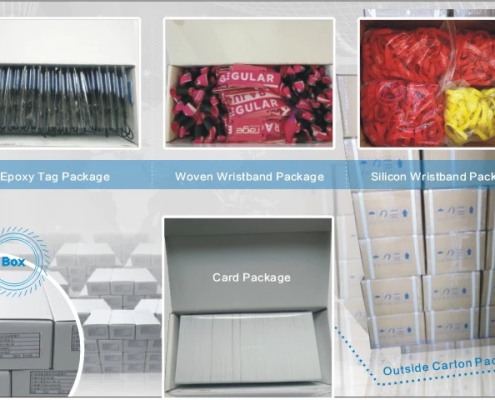 Here at RFID general,
Our RFID Fabric Wristband Samples are available for test anytime !
Please feel free to contact us for Quote Sheet and free Samples to test !