Are you looking for quality RFID wristband that can serve all your purpose? RFID General has come up with a new style of RFID wristband which is known as RFID Pouched Wristband. This particular RFID wristband will provide faster access for attendees, enhance the security and assist the stuff throughout an event. There are various RFID Wristband Manufactures in China but very few are authorized and trusted. But RFID general is one such RFID products manufacturer that is highly trusted by its customers in China.
It is a new version of RFID Wristbands which is made from a hybrid of satin and woven materials. The product is super soft and quite comfortable when you wear it on the wrist. The Tag is pouched security which remains inside the woven pouch. The best part about this RFID tag is it comes in various colours and is available in different types of security locking clasps. Our RFID tags and pouched wristbands have been used in several events and occasions and have provided high-class services to the customers. Being one of the highly trusted RFID Pouched Wristband Suppliers in China, we also offer customized printing options according to your need.
What are the services provided by the unique RFID Pouched Wristband?
Here are the various unique features that the RFID Pouched Wristband offers:
Enable complete access control thereby speeding up wait time and n the lines for attractions and admissions. Through this RFID wristband, attendees don't have to fumble to find their tickets, just by scanning the wristband the work will be done.Enhances overall security.Enables cashless payment.Another unique benefit of the product is it allows the guests to share their event experience on the social media platform. This further increases your brand exposure & provides viral marketing opportunities.
Some additional features of the RFID Wristband include Random number Printing Matching UID, glow in the dark thread and variable data & Serialization.
What are the various kinds of RFID Wristbands our brand provides?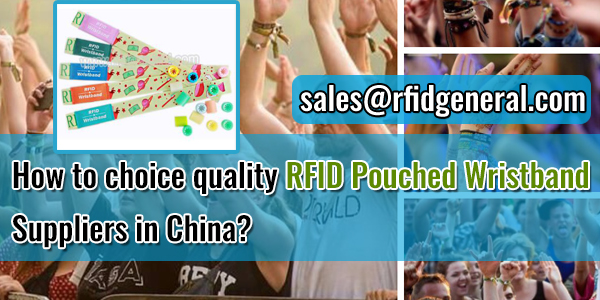 RFID Fabric Wristband Ultralight RFID Fabric wristbandRFID Elastic WristbandRFID PP WristbandRFID Vinyl and PVC Wristband
Why RFID general is the best RFID Wristband Factory in China?
Founded in 2012, RFID general has dedicated to manufacturing high technology RFID products such as RFID Wristbands, RFID tags, RFID cards and other related loT technology products. The uniqueness of our company is that the printing, size, shape and encoding of the RFID card can be customized according to the customer's preference.
Apart from RFID Wristband, some of our other products include RFID Laminate Badges, RFID & NFC card, RFID Sticker Tags, UHF Anti-metal Tag, UHF windshield sticker & other RFID technology.
Our business philosophy is to help our customer get maximum success through our products. We strive for excellence and sell the best quality products at a very reasonable rate. One of the major reasons why customers prefer our product is because we provide quality services at an affordable rate. We also have years of experience in the RFID industry, and with each passing year we try to enhance the technology and come up with new features.