If you are looking for RFID PP wristband manufacturers in China then you should go for one that can provide you various types of wristbands including ideal wristbands for one-day events, clubs, and festivals as well as matt or gloss PP wristband with the sticker of RFID. RFID PP wristband is considered the best using with any NFC or RFID because of its low cost for one-time use.
The RFID wristbands supplied by RFID fabric wristband suppliers in China are usually made for a synthetic or composite poly prop material which is easy to handle and completely waterproof. They are customized by printing UID, serial, barcode, QR code or registration code on them in various colors. These wristbands are normally used widely during festivals, concerts, healthcare industry, and events etc. for the purpose of access control.
Introduction with RFID wristbands
China RFID wristband for events is made from various types of polypropylene materials including matt and gloss finish. It is cut individually through die and closures are sealed to it after peeling it. These wristbands are also made from synthetic materials with high matt or gloss finish by cutting them with a die. They are fully printed in various colors to make them more attractive.
Sizes
They are available in various sizes including 250mm x 25mm, 255mm x 25mm, and 300mm x 25mm to choose as per your suitability. Their size can also be customized as per the requirement of the users.
Packing options
They are available in different types of packing including a sheet of 6 pieces, 500 or 1000 pieces roll or as per your requirement.
The mechanism to lock wristbands
The peel and adhesive to used to seal these wristbands are tamper proof
Other features of RFID wristbands
Additional Features you can see of RFID PP wristbands may include image, logo, barcode, texts, serial, and UID number, QR code, holographic sticker and plain colors.
Options in RFID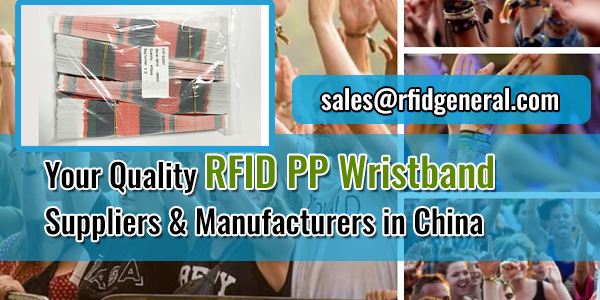 These wristbands include a 13.56MHz chip of Mifare Ultralight C, Mifare Ultralight EV1 or Mifare classic 1K S50. They also include ICODE SLI-X, ICODE SLI, Ntag 213, ICODE SLX-S, Desfire, Ntag213 or Mifare Plus of 2K or 4K compatibility.
Manufacturer
Dongguan RFID General Technology Co. Ltd is one of the best RFID PP wristband manufacturers. Their factory is inaugurated in Chang'an town of Dongguan city in 2012. They dedicatedly focus on production, sales and production of RFID wristbands, RFID cards, RFID sticker tags and other IoT technologies and products related to manufacturing these wristbands.
Being RFID fabric wristband suppliers they supply the RFID chips of different frequencies including 125 KHz, 13.56 MHz, and 860-960 MHz to choose from as per your requirements. They also print, size, encode and shape their OEM products to customize them according to the needs of their customers.
The manufacturers and suppliers of China RFID wristband for events follow the philosophy that their business is based on the success of their customers. They try to maintain the quality of their wristbands to provide the best products and services at affordable prices to their customers.
Thus, Dongguan RFID General Technology Co. Ltd can be considered as the best manufacturers and suppliers of China RFID wristband for events in this region. They can provide you various types of wristbands with a wide range of features to enjoy with them on different occasions.