Nowadays, the technology is far more advanced. The best technology can give you the best connection. You do not need to suffer with the slow connection as well. The contactless technology is now high on demand. But the increasing demand of wireless connectivity can also increase the power of crime. So, it is very much important to protect the valuable data and information from trespassing and stolen. RFID GENERAL is the leading blocking cards supplier in China.
Our products:
We manufacture RFID blocking cards and contactless cards as well. Our RFID cards can block any kinds of unwanted scanners. Our cards are made with advanced technology. It can works in any kinds of wallets as well. These cards are highly durable and made with best quality materials. These cards are water resistant and tear resistant as well. You do not need to face any kinds of hassles at the time of using these cards. These cards come in the same size of credit cards. So, you should not face any troubles in order to carry it.
Secure:
These cards can make you safe and secure from any kinds of fraud transactions. You feel safe when it is in your wallet. These are the hot selling products. Our products are highly used in big events, festivals and exhibitions in order to control access. You can also use the cashless method of payments with these cards. You can get the secure payments options with these highly advanced cards.
High quality materials: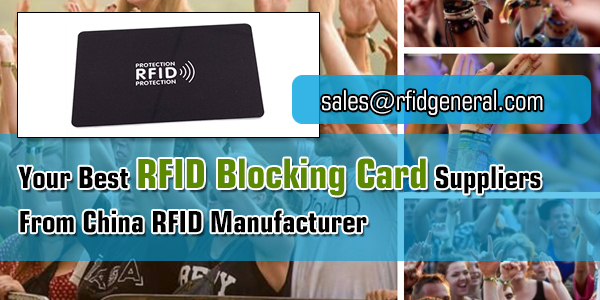 These cards are made with high quality materials. You do not take any tension about the destroying of the cards. The materials are durable and water resistant as well. These cards cannot damage due to water and fire contact. You can also write too many times on this card. We maintain the high quality in order to serve you better. Our company can produce top class products for the sake of the customers.
Experienced staffs:
We have so many experienced staffs in our team. They are trying to give their best effort in order to serve you the best. You do not need to make any compromise with the products. We always try to give you the best. Our staffs are best and skilled enough. They are the reasons to make our brand name popular. You can see their working methods and their works reflect their knowledge as well.
Affordable rate:
You can get these cards at affordable rate. We always try to give you the best product. Apart from these cards, we also produce the metal tags, RFID laminate badges, UHF windshield stickers as well. You can get all of these at reasonable prices.
We are the top class RFID card China Manufacture Company. We are very hard working. We maintain our brand name and popularity through our hard works. You can get too many things under one roof. You can trust us. We have gathered so much experience in this regard. You can see the difference and efforts in our high quality products which are advanced as well.