There are very many ways RFID 13.56Mhz NFC-Cards can be used. You will find them in Access Control areas, Cashless Payment and Business Management Systems, Attendance Systems, Schools, Hotels, Exhibitions, Hospitals and even in the transport sector. If you wish, you can always acquire one for your own personal use.
However, as you probably already know, there are features to look out for before going for these NFC cards. First, you would wish to know the material with which the card is made, its speed and most importantly, the manufacturer. In this post, we shall highlight some of the reasons you might want to opt for our RFID 13.56Mhz NFC-Cards, but first things first.
Wide Utility
As we have already mentioned, our RFID-13.56Mhz NFC-Cards can be used in various industries. Due to our long history of excellence, we have had some of the world's leading companies repeatedly ordering our cards. Some of the notable companies include Sheraton Hotel, Korea Subway, HK MTR and Marco-Polo Hotel.
Waterproof and Quakeproof
This is yet another great thing you will like about our 13.56Mhz NFC-Cards. That no matter where you place them, you will never have to worry about the card getting damaged by moisture or getting dislodged in the event of tremors. You can seamlessly use the cards even in the most humid conditions.
Durability Guaranteed
13.56Mhz NFC-Cards are only durable to the extent of the material they are made of. And as one of the best NFC card China manufacturers, we understand that all too well. That is why we design our cards in some of the most weather- and scratch-proof materials you can ever find, such as PVC and Transparent PET. In addition to that, we also use some of the strongest packaging materials for overseas shipping, such as Fedex, DHL, TNT and UPS.
Reusability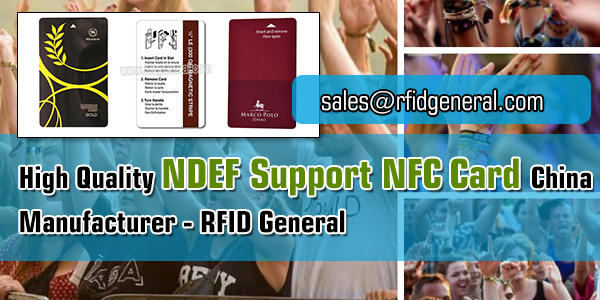 Let's face it; quality 13.56Mhz NFC-Cards do not come cheap. As such, you need to derive maximum utility from them before they can possibly become useless. Thankfully, you can reuse our NFC cards to modify or delete your data.
Speed Is Remarkable
Speed is a crucial factor when ordering 13.56Mhz NFC-Cards. You want the card to perform all your data scan, exchange and synchronization as fast as possible, especially where large volumes of data is involved. With a fast scan speed of 0.1/s-0.5/s, what more could you possibly ask for?
Security
Data security is not something you want to compromise with. This is why any you are only better off with 13.56Mhz NFC cards that guarantee the safety of your data. With this card, you can always set your password and control access to your sensitive information. Even better, we can help you with encoding or encryption, just so your data remains firmly secured.
Why Us?
One of the best things about ordering from us is that you get 100 percent quality. The features of the card are just as they are documented on our website, and there are no misrepresentation of facts. Also, the chips are 100 percent original with no duplicated TID or UID.
If you would like to test our cards before ordering, you would be interested to know we have free samples available for testing whenever you want.
Last but not least, you will find our pricing fairly flexible and industry-competitive, especially for our minimum order quantity which is 500. Though we do not always do it, we can sometimes agree to supply quantities less than the MOQ.
Give us a call today at 0086 189 4858 9427 if you would like to place an order for your MIFARE or RFID cards. Better yet, you can email us at sales@rfidgeneral.com or simply head on to our website https://www.rfidgeneral.com/product/13-56mhz-nfc-card/ to read more on our amazing offers.