Nowadays RFID cards are used in many fields. Hotels, schools, offices, hospitals and other places use these cards. These cards use safe and easy technology. NFC 13.56 Mhz cards help to identify people with accuracy. For these reasons, these cards are getting more and more popular.
There are many companies who make these cards. But, you should only choose the best company. Because only the best company can provide you with the assurance of safety and security.
Our company RFID general makes high quality 13.56 Mhz NFC card. We have many satisfied customers and we are the leading producer of Mifare RFID cards. We can supply customized China NFC cards for your company. We are seriously dedicated to our services and we strive to make our cards the best ones.
Why Should you choose our company?
1. Excellent Quality
Quality is the first thing that makes a company supreme. Our company always try to maintain the highest quality for our customers. We produce 100% original china NFC card. Our cards are flawless and they can protect the valuable data.
Moreover, our cards are water-proof. We use supreme quality PVC material for our cards. As a result, our cards are durable and long-lasting. It can protect the data for 10 years.
2. Advanced Technology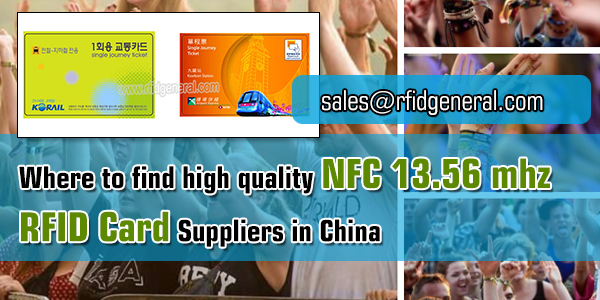 We use simple, yet advanced technology. Our cards can be used by anyone. Within 0.5 seconds our cards can be detected by the system. Apart from that, the chip on our 13.56 Mhz NFC card is made of one hundred percent original material. Hence, it provides the best security.
Our cards are made with modern technology. You can encode our cards. For more security, you can delete and reenter the data on our cards. These advanced modifications make our cards the top class NFC card (China).
3. Satisfying Sales Service
Clients are our top priority. We never neglect our customer's demands. We listen to them and always try to provide them with the best services.
We are available for 24 hours. Moreover, we provide free samples for our customers. They can see these free samples and then they can order us. We always do our business with transparency.
4. Sincere Packaging and Delivery
Our packaging is made with great sincerity. We package our cards in safe boxes. This ensures safety during the shipping process. To make the matter easy for our clients, we label each carton with particular serial numbers and identification numbers. We also do customized packaging to satisfy our clients completely.
5. Versatility In Card Production
We make different types of 13.5 Mhz NFC cards. You can get cards with signature panels and embossed numbers. Cards with bar codes, punching holes, and magnetic strips are also produced by us. You can also get UV coated and laser U.I.D cards from us. You can customize all of these cards and you can expect 100% percent originality in all our NFC cards.
All these features make us the leading RFID card supliers in China. We supply our products to all over the world and we have many satisfied customers. We don't overprice our cards and we always supply best class cards without any delay. We welcome all kinds of order. Just visit our site and place your order. We will be really glad to help you.