Finding a reliable supplier in China can be difficult especially if you are trading for the first time.
You will therefore need a better strategy to find the best company that can supply you with quality products. You will need to research more in order to enquire about the reputed suppliers in China based on your business line and therefore becomes very difficult to land in the best supplier. However, if you are finding mifare classic 1k card supplier in China, the RFID General company is a great option to go for. This is a highly reputed company in the manufacture of mifare classic 1k card products and you can always enjoy high quality products anytime you make an order from the company. This article attempts to outline the benefits you are likely to enjoy when you choose RFID General company as your supplier.
Advantages of acquiring mifare classic 1k cards from RFID general company
1. Ensures security transactions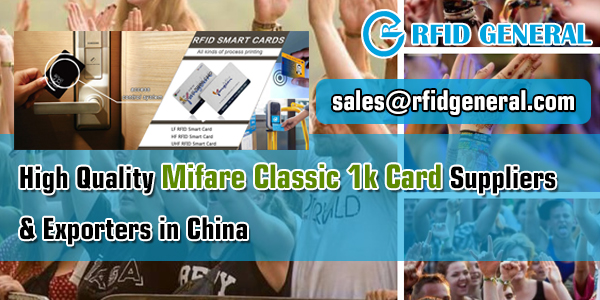 RFID manufactures mifare classic 1k contact cards which ensures maximum security while making transactions. Data is only transmitted through specific channels and can not be accessed by other external parties. You are also allowed to set a unique password to protect your card.
2. Provides a range of applications
The mifare classic 1k cards manufactured by RFID are used on a range of applications including access control, payment services, identification, enterprise management and transportation services among other applications. Therefore getting a supply of the mifare classic 1k cards from RFID allows you to enjoy a wide range of services unlike acquiring other cards which are only limited to a specific application.
3. High quality products
The RFID company uses advanced technologies to produce the mifare cards and you are therefore assured of acquiring quality products that would ensure efficiency in all your transactions. These cards are very durable as they cannot easily be damaged or broken.
4. The cards can be reused
Mifare classic 1k cards are manufactured in such a way that they can be modified and reused by other clients. This therefore saves on costs of acquiring new cards since the data in the card can easily be deleted and the card modified to suit the users needs.
5. Affordable prices
The company is always focused on satisfying their customers' needs and therefore offers affordable prices for all products produced in the company.
6. Wide range of products
A wide range of products is also availed to ensure that all customers acquire products that best suits their needs. Different product quantities are therefore priced differently to ensure that all customers acquire products that they can conveniently pay for.
It is very clear that the RFID company is the best option to go for, for the supply of quality mifare classic 1k cards among other products. The company has been in the industry for a long time now and is fully experienced in the manufacturer of these cards. All you need to do is simply contact the company as you wait to get your products shipped as soon as you complete the order. You can also visit the company's website for more information on the products and services offered. https://www.rfidgeneral.com/product/13-56mhz-nfc-card/