Do you remember seeing people wearing wristbands in parties or events? Of course, you do! But, what is the purpose of a security wristband? The security wristbands keep your staff and guests safe and they make it easier to make sure that your event is not invaded by someone you didn't want to come. Since parties and events go on for hours, the security wristband needs to be tear-proof, stretch-proof, water-proof, and most importantly durable; to ensure these qualities you need to get security wristbands from a trusted and quality-oriented company like RFID Wristband Suppliers, a renowned wristband China manufacturer.
Being one of the most trusted China wristband suppliers, we ensure the highest quality of security wristbands that you can rely upon. Founded in the year 2012, we are a dedicated manufacturer who believes in quality R&D. We supply top-notch RFID wristbands, RFID cards, RFID sticker tags along with many other IoT technologies and related products. We believe in one philosophy – "customer success is our business!" Because of our dedication and hard work we are trusted and recognized by customers far and wide.
Our RFID fabric security wristband
You can customize our security wristbands according to your sponsor's brand or events. You can trust our security wristbands that come with visible RFID tags. You can choose from a variety of designs that will suit your requirement; for example, we supply both reusable and one time used RFID wristbands and tags, fully compatible with every kind of events and solutions, like social media integration, identification, cashless payments, and access control. We also care about the quality and our customers' welfare and that is why we design our RFID security wristbands to be environmentally friendly and with materials that are not harmful to the human body.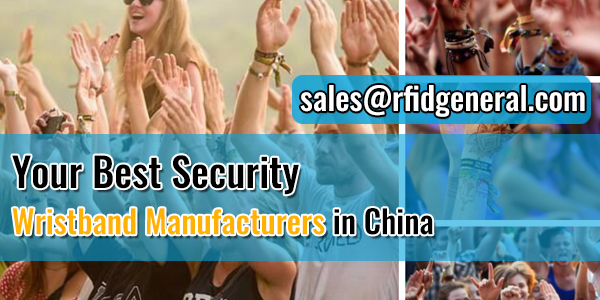 So, if you want a security wristband that is stylish, safe, secure, and of superior quality, you can trust RFID Wristband Suppliers. You can go for security wristbands with full-color print with a smooth satin finish, wristbands that include metallic and neon threads, or with a fabulous finish, like frosted, matte or gloss. You can go with a simple design but with superior security promise as well. RFID wristband suppliers have a range of wristbands that are superior in security; you can choose wristbands with lock options-single time and re-usable. Further, there are standard barrel lock, Side load barrel lock, round/slim adjustable bead, metal bead lock, and round barrel lock.
We take our customers' orders with the utmost care and we make sure that we give them in quality packaging. We always ensure that our packaging is solid and strong and is ideal for overseas shipping. We also accept customized packaging.
Finally
We promise great quality and that's what makes us the leading a trusted wristband China manufacturer and one of the best RFID wristband suppliers. We offer a wide array of design with superior quality and security options. So, next time you are planning an event or a big occasion, think of RFID wristband supplier and we will make sure that the quality and satisfaction is top notch. Because our quality defines us and we work with only one philosophy – "customer success is our business!"