The world is now smart and advance. There are many places where RFID chips are used today. This means Radio-frequency Identification Chips. You may get this one in your door or transportation card and even in your wallet. These types of cards are generally used in retail security firms, gyms and farming companies as well. RFID Access card is actually manufactured in China. There are so many plastic RFID key card suppliers in China. But RFID General Company is the best one among all.
High quality products:
We make high quality products. Our RFID key cards are used in hotels, shops, schools and hospitals as well. We make these types of key cards for mainly hotels all over the world. There are so many hotels where our cards are used by so many people around the world. These hotels are such as Holiday Inn, Marco Polo Hotel, Sheraton Hotel and all. We always try to make our cards durable and strong enough. We maintain our top class quality in order to serve better.
Water-proof cards:
We make our cards fully water-proof. Our cards are quakeproof as well. So, if you carry this card in rain, then you should not worry about the damage of the card. Actually, we use the high quality PVC material in order to produce these cards. These cards are durable enough. You cannot break it easily. You cannot even damage it usually.
Reusable cards: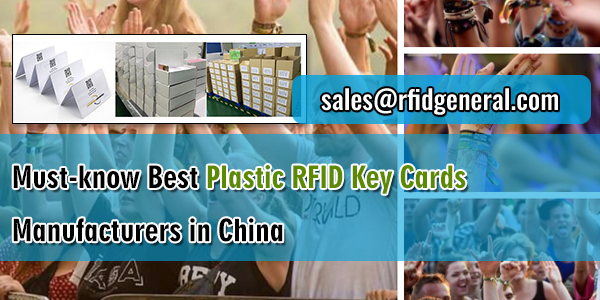 We make our products for long time using purpose. You can use this same card many times. All you need to delete the previous data from it. After that, you can use it for a new purpose. We make custom hotel key cards as well.
Provide security:
If you want more security, then you can set password of your own. By doing this, you can easily protect the data in it. Nowadays, protection and security is very much important than anything. So, with this card, you can secure yourself and your company employees as well. We make this card smart in technique in order to provide you the safe world and secure place. This card is also enabling to do encryption and encoding as well.
Fast scan power:
These cards are made with high class technology. So, these cards can scan so many things very quickly. You do not need to wait for long time in order to scan something. Our cards are smart enough and can provide you the fast service as well.
We are actually specialized in making of RFID wristbands, cards, tags and sticker labels. We produce high quality materials in order to serve better to our customers. There are many reputed hotels, companies and schools that use our top class products for various purposes. Our products are widely used in top class events, festivals and parking access as well. We make these products and provide you with reasonable cost. Our employees are experienced and skilled enough to check all the products and their quality as well. We also check our products before shipping finally to the customers. We try to maintain a friendly relationship with our customers.